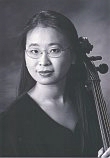 Dr. Shiang-Yin Lee received her Doctor of Musical Arts in Cello Performance from the University of Washington, Master of Music in Cello Pedagogy from the University of Texas and Bachelor of Music with cum laude from the University of North Texas. She studied with Raymond Davis, Cordelia Miedel, Toby Saks, Yehuda Hanani and Marion Feldman. She also studied cello pedagogy with internationally renowned pedagogues Phyllis Young and Irene Sharp. She received her registered Suzuki teaching certificates in Book 1 through 10 from the Chicago Suzuki Institute and studied with Suzuki teacher trainers Carey Cheney, Jean Dexter, Pam Devenport, Barbara Wampner, Nancy Hair and Nancy Yamagata.
Her performance credits include solo and chamber recitals in the U.S. and Taiwan. For several summers while participating in Aspen Music Festival, she played in Aspen Sinfonia. She was a member of the orchestras at the University of Washington and the University of Texas. She also freelanced in Everett and Federal Way Symphony Orchestras, and Seattle Choral Company. She is a member of A Triem Ensemble, Crescent String Trio, East West String Quartet, and Lulli Piano Trio.
Through teaching she shares her passion for music, for cello, and for all things cello with students of all ages and skill levels. She is a cello instructor at the University of Puget Sound (Tacoma), Music Works Northwest (Bellevue) and the Pacific Northwest School of Music (Bellevue). She is an orchestra clinician at Interlake High School, International School and Highland Middle School in the Bellevue School District. She also maintains her own private cello studio in her homes in Sammamish and Bellevue. With the belief that the love of music, patience and regular practice bring out the musician in all of us, many of her students participate in Seattle and Bellevue Youth Symphony, Seattle Young Artist Festival and Eastside Performing Arts Festival. Her students have received high marks in The Royal Conservatory and ABRSM Exams. Before moving to Seattle, she taught at the famed String Project at the University of Texas and was also a teaching assistant there. Dr. Lee is a member of American String Teacher Association and Suzuki Association of Americas.